Welcome to over 40 years of fastening problem solving! Since our inception in 1975, K-J has continued to work hard to be a cost-effective supplier of special fasteners per print. With our extensive relationships and well-managed vendor base; we can meet all your special fastener requirements regardless of quantity, lead time, diameter/length, metrics, and ALL exotic materials. We work closely with our customers to develop JIT programs ("SmartStock") on their typically non-off-the-shelf production items, creating extraordinary value and reduction in acquisition costs. You still benefit from volume pricing, but with monthly or weekly releases. K-J will dedicate its inventory (and creative energies) to your special parts.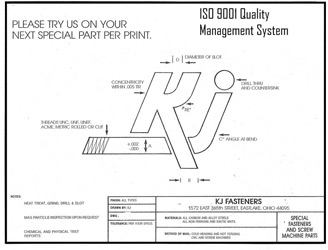 Cold heading, hot forging, warm forming, stamping, bending, cutting, rolling, you name it…we've got solutions! We would like the opportunity to explore cost savings for you in the areas of cold heading, hot forging, stampings, and wire forming. Determining the most cost-effective manufacturing process is the key to our success and service. All parts are subjected to our ISO 9001 certified quality management system. 
Standard fasteners are often considered a simple commodity. Your engineered production components per print are anything but, and literally the lifeblood of your company. Put our resources to work for you!