Archives
Archive: Jan 2022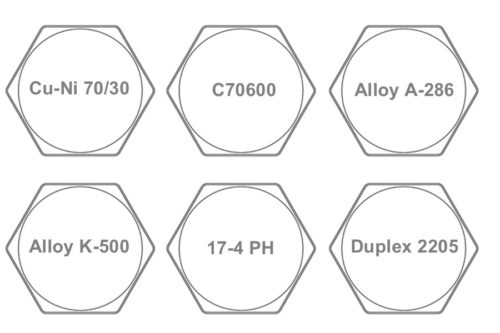 Fasteners are used in a variety of different applications. But just because a fastener has standard dimensions doesn't mean it is necessarily off the shelf. Many applications demand exotic materials where durability, tensile & torque strengths, and resistance to corrosion are critical. Exotic material fasteners are a crucial part in everything from food rendering equipment, injection molding machines, medical applications, marine installations, to oil and gas industries.
Our wide variety of special materials are preferred for assuring compatibility, preventing galling and seizing, guaranteeing peak performance in caustic and harsh conditions, and preserving the integrity and lifespan of your capital equipment. Just a few of the options we supply standard fasteners and per print specials in include: 17-4 PH, Alloy 2205, Monel Inconel, Hastelloy, Titanium and Silicone bronze. But copper nickel alloys have their own personality.
The combination of copper and nickel is ideal for applications that are exposed to water, particularly seawater. Copper nickel is resistant to corrosion due to its composition, making it the perfect choice for marine applications.
Copper nickel fasteners are also an excellent option for food rendering. The process of food rendering combines the abusive elements of pressure, friction, high repetition, and often hostile temperatures. The fasteners used for these machines must be able to withstand high volume cycles, abrasive contact, and various environments.
Copper nickel fasteners can also be used for energy generation applications. Because the oil and gas industries often handle temperatures that can get extremely hot or be installed in very cold parts of the world, it is important for fasteners to be able to withstand the changes without becoming worn over time. Copper nickel fasteners are an excellent option here, as well, due to their resilient composition.
Depending on what the job is, we can recommend the perfect fastener for your project regardless of what exotic material you require. If you are building something that needs a strong nonferrous fastener that can withstand your unique applications, we can help you determine the proper solution
Wheel housings, drive trains, and rear end assemblies are crucial components on automobiles, but not all wheel studs and place bolts are created equally. When you initially purchase a vehicle, the standard bolts are manufactured specific to that vehicle. This means that if and when modifications are made to an automobile, the wheel studs may not be suited for vehicle updates. If you are a classic car enthusiast, do-it-yourselfer, or performance lover – this is even more important.
As the car changes, the amount of stress on the wheel studs can also change. So, upgrading wheel studs to a stronger and more durable pair can help in the long run. If modifications are made to a vehicle that drastically change the weight, stronger wheel studs are necessary. The right wheel stud and place bolt parts increase strength while driving and reduce seizing, making the vehicle drive smoothly and safely. Many consumers may not realize that wheel studs should be updated proactively and not wait until something goes wrong. Strengthening existing wheel studs and place bolts with a more durable pair can help prevent issues with the wheel. This is especially true when it comes to heavy tires or higher speeds that increase tension and torque, reliable performance plays even a bigger role.
Wheel studs also play a significant role in the quality of the drive during difficult road conditions. A bump in the road or uneven pavement can derail wheel studs, so proper installment is crucial to prevent damage to the vehicle. The wheel stud must be set to the proper torque for the type of automobile, otherwise it could cause issues that can cause the wheel to fall off completely.
 
Ultimately, wheel studs are an extremely important piece on a vehicle. They make sure the brake rotors are in the proper place and fasten the wheels to the automobile. When wheel studs break down, they can cause severe damage to the vehicle and even lead to dangerous car accidents.
And let's not forget aesthetics. Yeah, you like to pop the hood and show it off, but don't forget the under carriage. From top to bottom, front to back – your car is your passion! Whether cruisin, racing, or just looking for the smoothest everyday ride – it all starts with your Wheel housings, drive trains, and rear end assemblies.
Contact us today if you have any questions or would like to speak to a KJ Fasteners Representative.